New Zealand Architecture Award for Hurstmere Green
Hurstmere Green was awarded a NZIA New Zealand Architecture Award last night at an awards function held at Shed 10 on Queens Wharf.
See the Portfolio for further images from the scheme. See below for the team.
The jury citation reads:
"This sophisticated and sensitive project – an excellent example of multi-layered urban planning and design – exhibits a delight in craft, a command of materials, and a mastery of detail. These qualities make the project successful in its own right; just as importantly, the architects never lost sight of the big picture. Social and commercial agendas have been addressed, as have the urban and topographical contexts of the work. A strong, underlying axial desire line, connecting the high street, beach and Rangitoto Island underpins the concept. Artwork is successfully integrated into the project and ordinary materials are handled extraordinarily well. A high level of skill and competence has produced an excellent example of multilayered urban planning and design."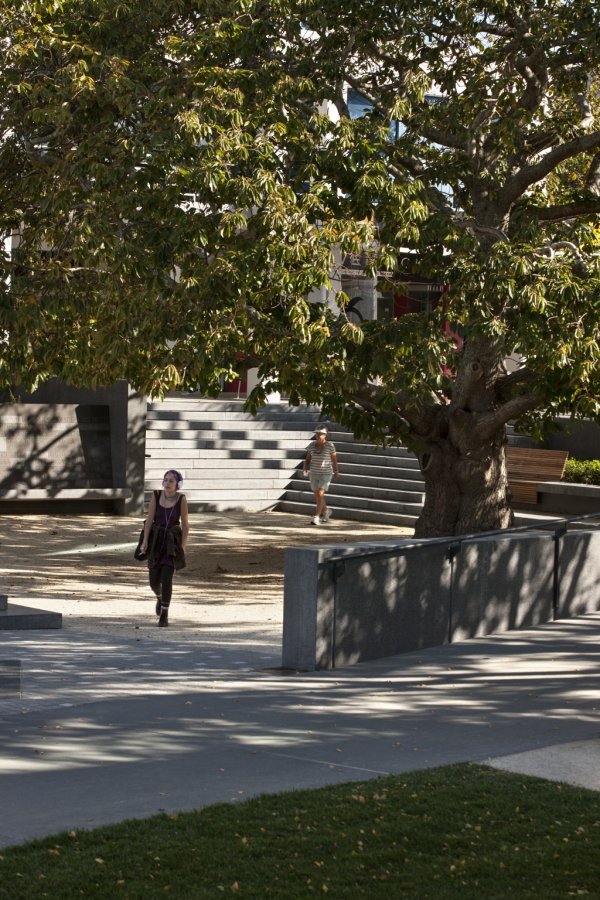 The SvB team included Aaron Sills, Christina van Bohemen, Xuan McArthur Nguyen and Nicola Zimmerman, as well as Katrina Simon, Nick Sayes and Sunny Wong who worked on the original competition scheme in 2006.
SvB acknowledges and thanks our clients, colleagues and collaborators:
Client: Auckland Council – John Stenberg, Ian Bielawa, Catherine Edmeades
Artist/Sculptor: Brett Graham, Ngati Koroki Kahukura
Landscape Architect Williams Landscape – Chris Williams
Civil + Structural Engineer: Jawa Structures – Rob Walsham, Eric Li
Lighting and Electrical: LDP – Domenico De Vincentis, John McKensey
Works Arborist: Arborlab – Karl Burgisser, Andre Le Claire
Quantity Surveyors: WT Partnership – Mark Revis, Josie Hirao
Resource Consent Lawyers: Simpson Grierson – Gerald Lanning, Nicolette Butler
Resource Consent Planners: Boffa Miskell – Christine Coste
Main Contractor: Kalmar Construction – Lueder Stock, Michaela McGeorge, Paul Dreyer, Peter Kay
Subcontractors: Contrax, Mace, Italian Stone, Hunua Park Furniture, Dickson Gray, Hatch, DL Good, Glass Projects, Mace, Nauhria.
Photographer: Simon Devitt.