Hurstmere Green Design Concept Chosen
Sills van Bohemen Architecture's design concept for a public park in Takapuna town centre has been selected from four alternatives.
North Shore City Council has announced the scheme by Sills van Bohemen Architecture as the preferred design for Takapuna's Hurstmere Green. Hurstmere Green is an existing public park situated between Takapuna's primary retail street, Hurstmere Road, and Takapuna Beach. The three other teams invited to submit designs were Jasmax, Isthmus and SOUL Environments.
Sills van Bohemen Architecture's team included Chris Williams Landscape Architect, Katrina Simon Landscape Architect and Rob Walsham of Jawa Engineers. Architecture students Nick Sayes and Sunny Wong also helped out.
The selected scheme improves the important connection between Hurstmere Road and the beach, emphasising a precise axis that runs due east to the cone of Rangitoto. It preserves the prominent chestnut tree near Hurstmere Road and retains the grassy character of the existing park. Use of Hurstmere Green will increase with the improvement of existing connections as well as two new links directly into the park from adjacent building terraces. A series of low walls are also a feature, breaking the green into more intimate spaces and providing seating. The scheme anticipates the creation of a small plaza on Channel View Road as part of future development along this lane.
Sills van Bohemen Architecture's scheme was the design concept most preferred in public voting and a unanimous choice by the expert judging panel.
The design will continue to be fine-tuned with feedback from the public, Takapuna Community Board and owners of neighbouring properties. Key areas in the implementation of the project will be developing clear urban relationships between the park and surrounding properties, the important public connection to the beach, and devising details and materials that respond to the particular character of Takapuna.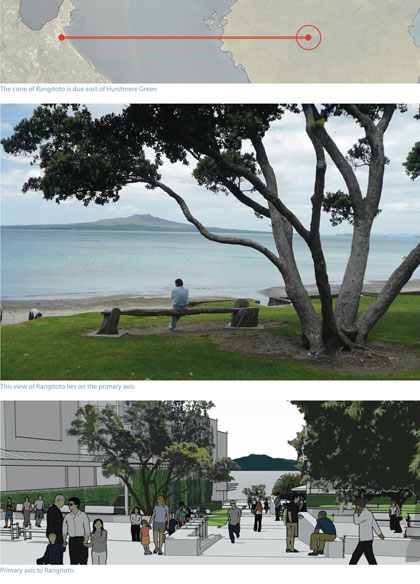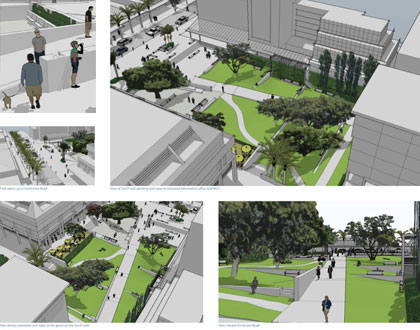 More Information
See our Portfolio page for further images from our scheme.